Celebrities
Meesha Shafi celebrates Women's Day with the release of her new track, 'Rajkumari.'
Meesha Shafi celebrates Women's Day with yet another new release, Rajkumari (Princess).
The song, which was made by Abdullah Siddiqui and Shafi and directed by Awais Gohar, shows the singer in traditional clothes with other women of different sizes and colors.
The words of this song are pleasant to the ear and strike a connection with listeners.
Shafi's song is a treat for all South Asian women who are trying to break free and rise up in a patriarchal world like theirs.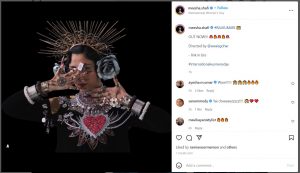 Fans seem to be swooning over this song's honohonoringen's empowerment.
According to one of them on YouTube, "Shafi's voice has evolved into the vehicle for the expression of femininity, and this song is a celebration of the feminine spirit."
According to another, this tune is a "real hymn of female power."