Fashion Show
TEXPO 2023 Day 2 Concludes with Enthusiastic Chants of 'Pakistan Zindabad'
Reflecting on the Diverse Showcases at TEXPO2023: Fashion's Triumphs and Challenges
Fashion in Pakistan may have undergone commercialization, leading to a decline in the number of fashion shows, but it is far from being declared dead. Amidst the ups and downs, the second and final day of TEXPO2023, organized by the Trade Development Authority Pakistan (TDAP), showcased collections that both mesmerized and disappointed the audience.
Shamaeel Ansari
Shamaeel Ansari, a designer known for her individuality, kicked off the day with a captivating display of her signature style. Her collection featured bold floral prints, intricate embroidery, and a fusion of vibrant hues, evoking a sense of boldness and glamour.
MEME
A high-street brand failed to make an impact with its lackluster presentation. The collection appeared to be hastily put together, lacking creative styling or inspiration.
Indus Valley School of Art and Architecture (IVS)
The students from the Indus Valley School of Art and Architecture (IVS) were impressed with their edgy designs that defied the notion that fashion school collections are solely experimental. Their collection showcased innovative layering, denim reconstructions, and refreshing silhouettes, proving that they possess both skill and market appeal.
Almirah
Almirah, known for its wearable kurta-shalwar ensembles, ventured into men's Western suiting and inventive adaptations of the traditional kurta-shalwar. While the waistcoats over kurtas were appealing, the Western wear lacked finesse in stitching, an essential aspect of menswear.
The Pink Tree Company
The Pink Tree Company displayed a vibrant range of prints and patterns, combining elements of tradition with whimsical designs. The collection featured flowing shirts and pants adorned with embroidery, sequins, and playful motifs. Although lacking cohesion, the individual pieces were undeniably lovely.
Sanam Chaudhry
Sanam Chaudhry was impressed with her high fashion signature and innate design sense. Her collection exuded summer party vibes, featuring cotton and crepe garments in brilliant colors, complemented by a clamp and resist dyeing techniques. The focus was on effortless silhouettes, including dresses, tunics, kaftans, and wide-legged pants.
Parishae Adnan
Parishae Adnan, daughter of renowned designers Amir Adnan and Huma Adnan, showcased her fierce and unabashed design vision. The collection featured striking elements such as straight high collars, sleek pants, and gender-fluid ensembles. The impeccable stitching showcased Parishae's strength and the influence of her father's atelier.
Diner's
Diner's, a high street brand, failed to make a lasting impression. The collection of Western menswear lacked well-fitted pants and lacked the necessary dramatic elements to captivate the runway.
The Textile Institute of Pakistan (TIP)
The Textile Institute of Pakistan (TIP) presented a disappointing collection with poorly stitched gowns, ill-fitting jackets, and forgettable designs. This raised concerns about the quality of education provided and the lack of vetting processes for student collections.
Spartan Athletics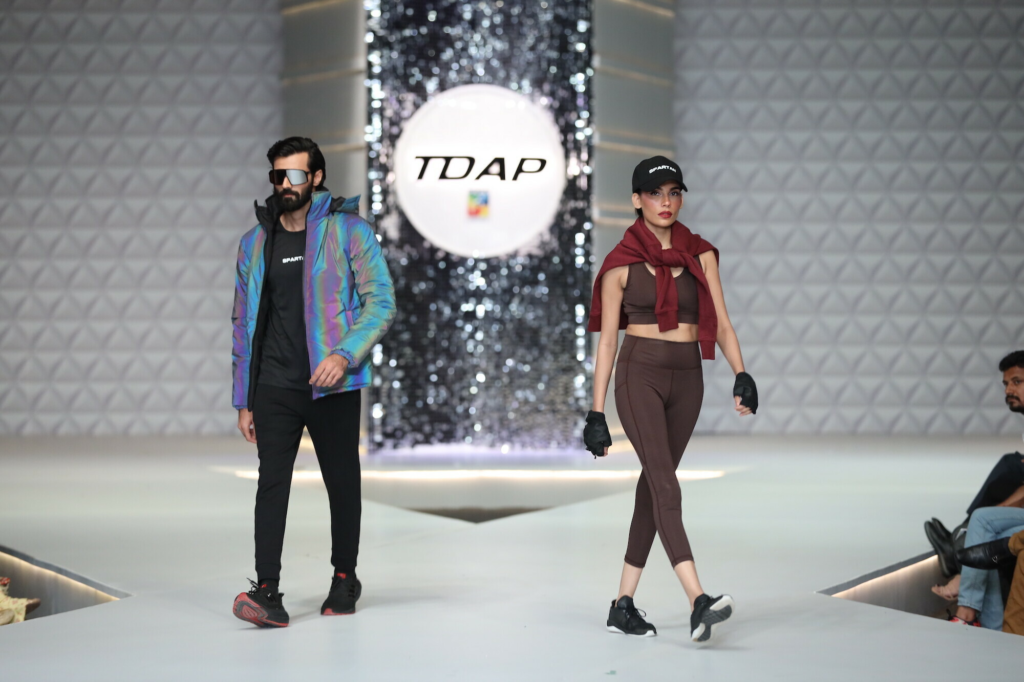 Spartan Athletics stood out by showcasing well-constructed sportswear, fitting the models perfectly. The collection mixed monochromes with neon pops, reflecting the rising trend of athleisure and catering to the fitness-conscious audience.
Ali Xeeshan
Ali Xeeshan, known for his energetic shows, presented a diverse collection that encompassed active wear, funky kurtas, saris, and heavily embellished wedding wear. Although lacking cohesion, the collection featured bold embroideries, unique prints, and quirky accessories. The finale, with models holding a blackboard reading "Pakistan Zindabad" in support of a charitable cause, added a captivating touch.
While Pakistan's fashion fraternity boasts brilliant designers, it is overshadowed by a substantial number who lack technical expertise and finishing skills. The future of fashion in Pakistan remains uncertain. Despite its challenges, fashion in Pakistan perseveres, proving that the industry is alive, but how long it will continue to thrive is uncertain.