Fashion Show
TDAP 2023 Fashion Show Day One: A Thrilling Journey through Fashion's Ups and Downs
Karachi's Expo Centre buzzed with excitement as fashion journalists and designers gathered for the TDAP 2023 Fashion Show. The red carpet, adorned with celebrities and fashion experts' presence, set the stage for a two-day event as part of the Textile EXPO (TEXPO2023). While fashion weeks have waned in popularity, the Trade Development Authority Pakistan (TDAP) deserves credit for reviving the catwalk and bringing together an exciting lineup of designers.
As the show commenced, hopes were high that this could signal the resurgence of fashion weeks, reinvigorating the industry and pushing it beyond its retail boundaries. Memories of pre-Covid fashion weeks in Karachi and Lahore, with their memorable collections, flooded the minds of attendees.
Regrettably, the first day of the TEXPO2023 fashion show fell short in delivering groundbreaking collections. Although the show was well-organized and smoothly executed, the fashion presented oscillated between the good, the bad, and the ugly.
Expectations had been that Pakistani fashion had elevated its game, focusing on showcasing stellar, edgy collections. However, TEXPO2023 mirrored the mixed outcomes often witnessed in pre-Covid fashion weeks.
Let's take a closer look at some of the notable designers and their presentations:
Rizwan Beyg:
Rizwan Beyg's expertise as a designer extends beyond intricate hand embroideries, which are commonly associated with his atelier. This show served as a powerful reminder of his ability to craft exquisite silhouettes and patterns. His minimal, finely tailored, and effortlessly high fashion pieces, showcased on an ivory canvas of viscose fabric, offered a breath of fresh air amidst an industry saturated with embroidery and excess.
Adnan Pardesy:
Adnan Pardesy, known for his standout fashion, made a welcome return after a long hiatus. His mastery in working with denim was evident as he manipulated the fabric, dying, washing, bleaching, weaving, and incorporating pin-tucks, pleats, and applique to create a range of designs in 50 shades of blue. The collection effortlessly blended dressy and casual elements, resulting in a very cool and impressive lineup. One can only hope that Pardesy continues to grace the fashion scene and doesn't retreat into the shadows again.
J.:
The designs presented by J. fell short of meeting the expectations of a runway show. While their high-street designs appeal to a broad clientele, runway presentations demand a certain level of oomph, eccentricity, and adventurousness. The menswear lacked finesse, with the tailoring appearing untidy, and certain silhouettes failing to flatter. However, some designs caught attention, such as a multiple-shaded blue design and a tie-and-dye kurta and pant set, which held potential for retail success.
Huma Adnan:
Huma Adnan showcased her affinity for tribal design, incorporating colorful traditional embroidery on free-flowing silhouettes. Indigenous embroideries adorned skirts and jackets, complemented by layers of chunky jewelry, creating dramatic looks. While the collection impressed, the inclusion of an off-shoulder dress surrounded by a cloud of white remained perplexing, possibly included for added drama.
Sana Safinaz:
Known for glamour, Sana Safinaz merged elements from their couture and high-street lines, presenting a collection that ranged from elaborate luxe to easy, breezy designs. With a brilliant medley of colors, the show featured cutwork, embroidery, and applique on long dresses, skirts, capes, and an elaborate sari. While the collection was crafted with the expected expertise of a long-standing atelier, it didn't stand out as one of their most outstanding works on the runway.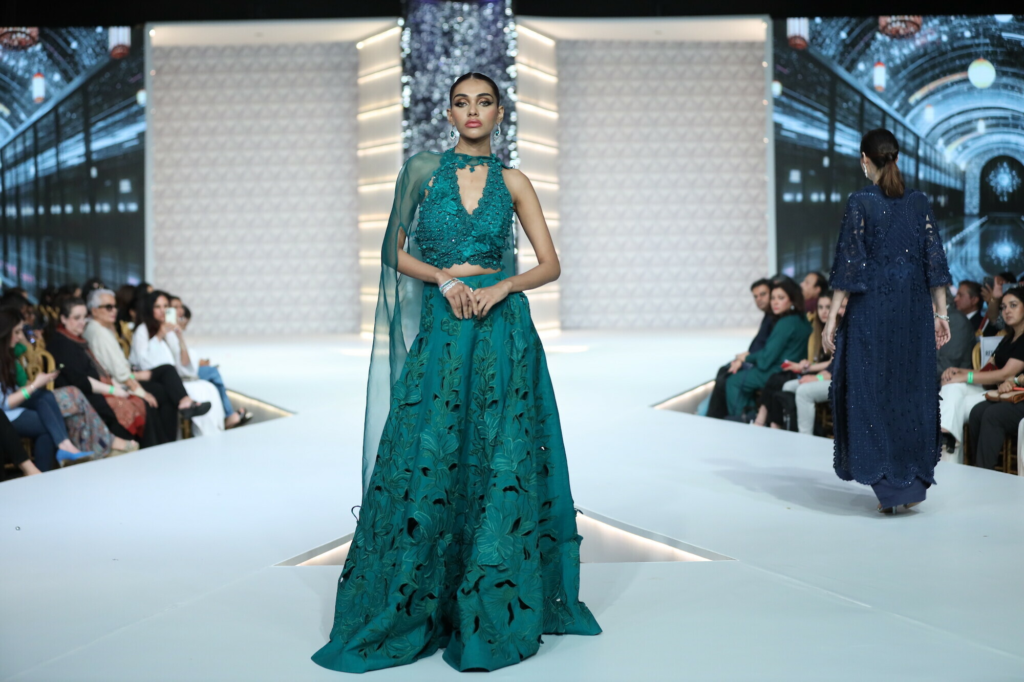 Wardha Saleem:
Wardha Saleem, known for her whimsical prints, vivacious colors, and fun designs, made a comeback at TEXPO2023 with a collection that showcased her signature style. Despite the financial constraints imposed by the pandemic, Wardha seemed to be enjoying herself again, creating dresses, jackets, skirts, and pants adorned with brilliantly psychedelic prints. Neon shades, floral embroideries, and bursts of sparkle added to the bold and eye-catching aesthetic of the collection, reminiscent of Wardha Saleem's previous runway successes.
Salt by Ideas:
Salt by Ideas presented a collection that had its hits and misses. While bursts of bright color on a predominantly black canvas had the potential to be appealing, the collection struggled to find a cohesive balance between smart casual design and high-fashion Western wear. Some designs, like athleisure-inspired pieces, clashed with others featuring high collars and oversized three-dimensional florals. The collection seemed to be trying too hard without achieving that certain je ne sais quoi. Finer tailoring could have elevated the collection and improved its overall appeal.
Asian Institute of Fashion Design (AIFD):
The student show by AIFD showcased young designers eager to experiment with new techniques and make sartorial statements. The collection displayed a mix of fabrics and embellishment techniques, resulting in offbeat and unconventional designs. While it is important for students to explore their creativity, it is equally crucial for them to understand the importance of creating visually appealing clothes. Some pieces in the show were admired for their uniqueness, such as a cape worn by Parishae James, but overall, there were elements that were difficult to comprehend. Hopefully, as these students gain more experience, they will refine their skills and create lineups that showcase both their abilities and garner praise.
M. Jafferjee's:
M. Jafferjee's showcased a timeless collection of leather bags and travel accessories. With meticulous stitching and a varied palette, the lineup featured envelope clutches, laptop bags, attache cases, and handbags in an array of colors beyond the traditional browns and beiges. Forest green, bright pink, golden, and butterscotch yellow added vibrancy to the collection, making it a treat for handbag aficionados. The models' minimal and basic outfits, designed by Wardha Saleem for women and styled by Nubain Ali for men, allowed the bags to take center stage.
Amna Aqeel:
Amna Aqeel's show exuded a party-ready vibe, with a monochromatic palette of black and white enlivened by three-dimensional florals, sequins, cutwork, and clusters of beads. Sparkling accents on shoulders and ruffled florals added visual interest to the designs. While some designs were more memorable than others, the collection as a whole had its intriguing aspects.
Deepak Perwani:
Deepak Perwani closed the day with his collection titled 'Starry Night,' which lived up to its name with an abundance of shimmer and glitter. The well-tailored lineup featured off-shoulder shirts, tunics, jacket and pant sets, dresses, skirts, and even a pant sari. Deepak Perwani's expertise in design was evident through impeccable finishing and stitching. While the collection could have benefited from more cohesiveness, it showcased the versatility and craftsmanship of the veteran designer. The show culminated with actor Sonya Hussyn twirling on stage as the showstopper, wearing a dress from Deepak's previous 'Frida' collection.
Overall, TEXPO2023 presented a mix of collections, some of which demonstrated the designers' creativity and expertise, while others fell short in terms of cohesiveness and appeal. The question of which collections were targeted for export and which were more