Bollywood News
Pooja Hegde Radiates Elegance in Striking Red Cross-over Top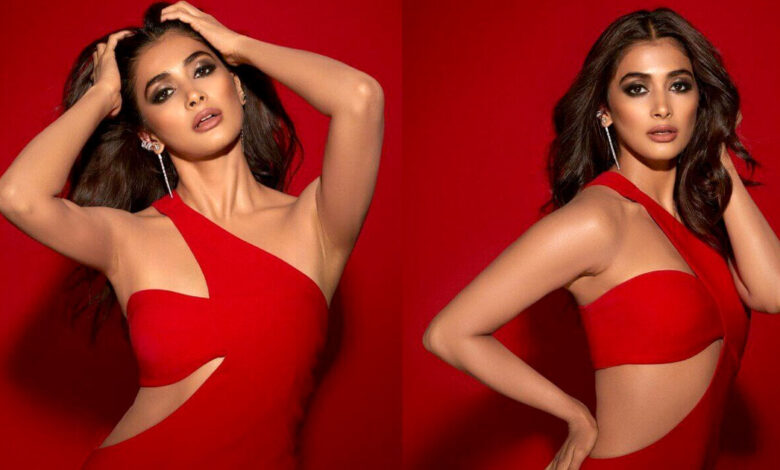 Pooja Hegde Sets Fashion Goals with a Mesmerizing Red Cross-over Top
Pooja Hegde, the acclaimed and stunning actress in the Indian entertainment industry, continues to captivate her fans with her talent and style. With a successful career spanning across regional cinema and Bollywood, she has become a prominent figure in the industry.
Apart from her on-screen charisma, Pooja Hegde is also admired for her ability to maintain a perfect work-life balance. Her social media presence is a delightful treat for her followers, and her latest post has sparked excitement among fashion enthusiasts.
In her recent Instagram post, Pooja Hegde serves as an inspiration for young girls looking to make a statement with red outfits on a romantic date night. The actress dons a striking red cross-over top that accentuates her elegance and beauty. The vibrant color complements her radiant personality, making her look absolutely stunning.
With her impeccable fashion sense, Pooja Hegde proves that red is a color that exudes confidence and glamour. Her post has garnered attention from fans and fashion enthusiasts alike, who admire her style and seek inspiration from her wardrobe choices.
Pooja Hegde continues to be a fashion icon and a source of inspiration for her fans, who eagerly await her next appearance on the silver screen. Her ability to effortlessly carry any outfit with grace and charm solidifies her position as a trendsetter in the industry.
As Pooja Hegde continues to leave her mark with her talent and fashion choices, her fans eagerly anticipate her next ventures and eagerly follow her fashion journey.