Entertainment
Minal Khan and Ahsan Mohsin Share Pictures from Madinah Journey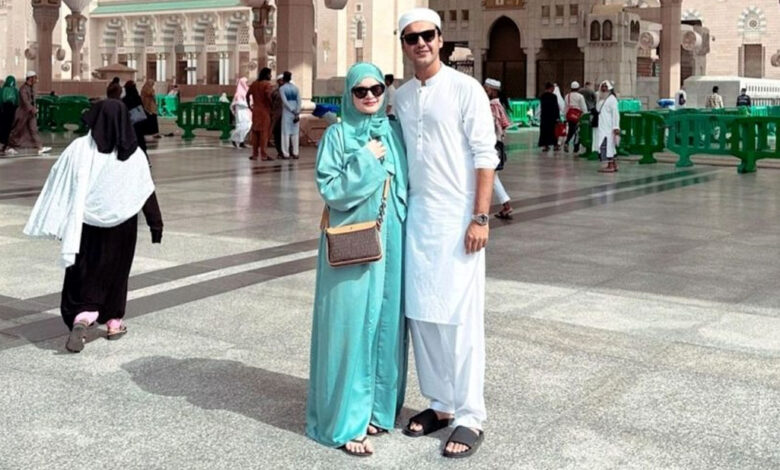 Minal Khan and Ahsan Mohsin Ikram Embrace Spiritual Journey, Share Mesmerizing Photos from Madinah
Minal Khan and Ahsan Mohsin Ikram, a beloved celebrity couple in the Pakistani media industry, continue to captivate their fans with their vibrant energy and adventurous spirit. Known for their love of exploring diverse destinations, the couple recently embarked on a special journey to Saudi Arabia for Umrah, a sacred pilgrimage.
Their spiritual quest began in the enchanting city of Madinah, Saudi Arabia, where they arrived full of excitement and devotion. Immersed in the serene ambiance, Minal and Ahsan shared breathtaking images from their visit to Masjid-e-Nabwi, beautifully capturing the essence of their experience. The couple showcased the magnificent views of Masjid-e-Nabwi, with Ahsan striking a pose inside the mosque while elegantly dressed in a traditional white shalwar kameez. Minal also shared a selfie, radiating grace and wearing a sky blue abaya.
As their journey unfolds, Minal and Ahsan are eagerly looking forward to performing Umrah at the revered Kaaba in Makkah, an experience that holds great significance in their spiritual quest.
The couple's heartfelt posts and stunning photos from their Madinah expedition have resonated with their fans, who admire their commitment to both exploration and deep spiritual connection. Minal Khan and Ahsan Mohsin Ikram continue to inspire with their unwavering bond and their ability to embrace diverse adventures, be it on-screen or off-screen.