Bollywood News
Jannat Zubair exudes timeless grace in a traditional salwar suit, showcasing her elegant style.
Jannat Zubair, the beloved celebrity, celebrated her father's birthday in a fashion-forward manner, highlighting their heartwarming bond over delectable snacks.
Shifting gears to Jannat's impeccable fashion sense, she radiates beauty in a new ethnic ensemble, donning a stunning blue salwar suit. The choice of color enhances her features and showcases her innate style.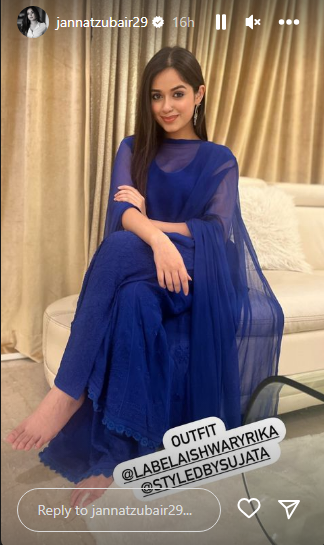 Renowned for her trendsetting choices, Jannat keeps a keen eye on the latest fashion trends. While she has previously mesmerized her fans with glamorous Western outfits, this time she captivates them with a simple yet elegant traditional salwar suit, resonating perfectly with her adoring audience.