Entertainment
Hareem Shah's Generous Gesture: Showering Dollars on a Belly Dancer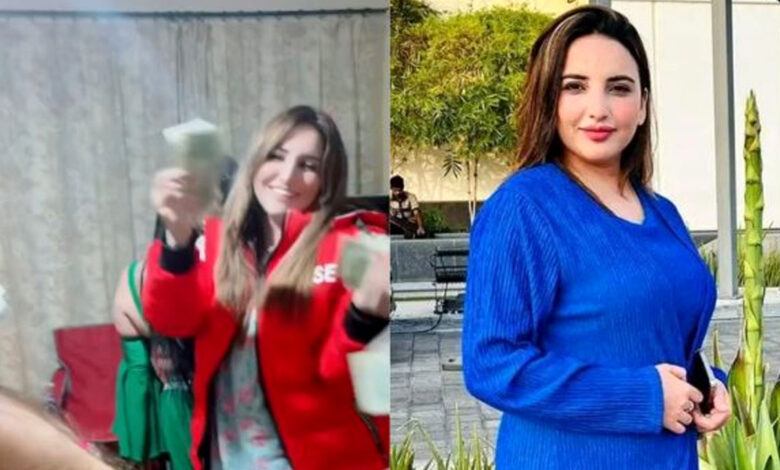 Hareem Shah Sparks Controversy with Dollar Showering Incident
Popular TikTok personality Hareem Shah is once again making headlines for her controversial actions. Currently in London, Hareem attended a private party where she was captured on video showering dollar bills on a belly dancer, a moment that has since gone viral on social media.
The video, shared on Hareem's Instagram account, shows her holding a stack of money as she sprinkles dollar bills on the belly dancer who performs to the song "Dilnasheen."
The incident has sparked outrage on social media, with many questioning the appropriateness of Hareem's display of money, especially considering her involvement in a previous money laundering case.
Interestingly, while in London, Hareem has expressed her intention to confront Shahzad Akbar, the former accountability chief of the Imran Khan government. She alleges that he tried to ruin her life by involving the UK National Crime Agency (NCA) in the 2022 money laundering case.
The controversy stems from a video that went viral in January 2022, showing Hareem in London with a substantial amount of cash. Hareem claimed that she had taken the money out of Pakistan without any issues. In response, Shahzad Akbar instructed the Federal Investigation Agency (FIA) to initiate a money laundering case against her and also reached out to the UK NCA regarding her activities.
Hareem Shah now alleges that Shahzad Akbar has fled Pakistan and is hiding in London. She accuses him of owning assets in London while evading corruption cases in Pakistan. According to Hareem, Shahzad Akbar attempted to have her arrested in London as a means to cause trouble for her, but she believes that karma has turned against him.