Entertainment
Hania Aamir acclaim for her exceptional acting skills.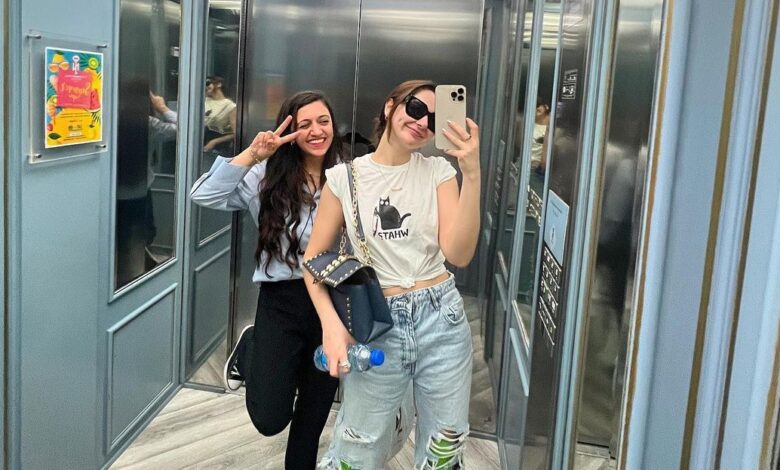 Hania Aamir, a talented and youthful actress, has been receiving immense recognition and acclaim for her exceptional acting skills. Despite her young age, she has delivered outstanding performances in popular dramas like 'Sang-e-Mah' and 'Mere Humsafar,' showcasing her versatility and talent. As a result, she has garnered a substantial fan following and has become one of the most adored actresses in the industry.
With her captivating presence and charm, Hania continues to captivate audiences, solidifying her position as an emerging star in the entertainment world. Recently, she delighted her fans by sharing breathtaking photos of herself in casual attire, effortlessly showcasing her allure even in minimalist looks.
In the pictures, she effortlessly pulled off a stylish yet simple ensemble consisting of a white shirt and black trousers, exuding an amazing aura.
Captioning the shared photos as 'extremities,' Hania Aamir, who gained fame for her role in 'Mere Humsafar,' proves that making a fashion statement doesn't always require an extravagant appearance. She exemplifies that simplicity can be equally impactful.
Hania is widely recognized as one of the prominent figures in the Pakistani showbiz industry. Her captivating personality and stunning looks have made her a favorite among households. Presently, she is attracting attention for her remarkable performance in the drama serial 'Pyaar Hua Tha.'
Not only is Hania admired for her acting prowess, but she has also established herself as a style icon. Her impeccable fashion sense shines through in both Eastern and Western outfits, serving as an inspiration for girls everywhere. With her adorable looks and flawless beauty, Hania Aamir continues to leave an indelible mark in the hearts of her fans.