Fashion
Captivating as Barbie: Ashnoor Kaur's Enchanting Pink Look Sets the Trend Ablaze!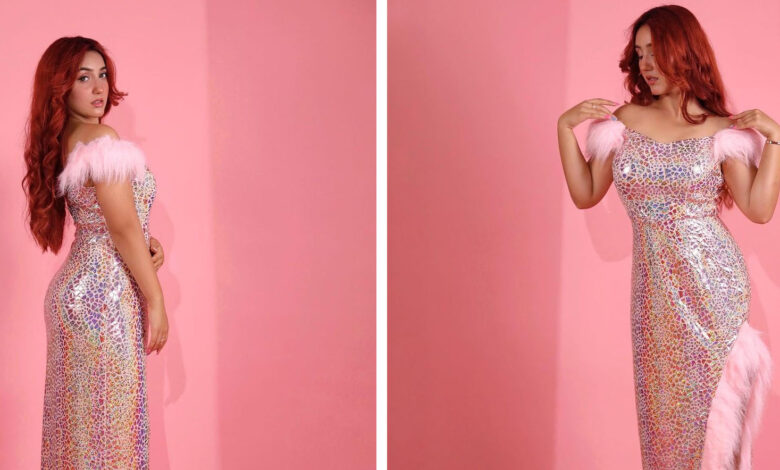 Ashnoor Kaur totally slayed it as Barbie, embracing this trending vibe with a magical pink look that's got everyone talking!
Fashion alert! The Barbie-inspired trend is going wild, and guess who's riding that wave? Yup, you guessed it – none other than Ashnoor Kaur! While she's been away from the TV screen for a hot minute, she's been killing it on social media with her fabulous content, keeping her fans totally hooked!
You know Ashnoor for her awesome casual style, but boy, did she just pull off something different this time! Her latest look is a Barbie makeover that's downright enchanting. Can we just take a moment to appreciate the caption, "Call me Classic"? 'Cause it fits like a glove and highlights her elegant and stylish appearance in this outfit.
Now, let's talk about the outfit! She rocked a pink furred bodycon dress with a shimmery texture that took her style game to a whole new level. And that touch of sophistication brought by the fur? Oh, it's got her fans showering her with compliments!
Ashnoor Kaur's got that versatility and charm that shines through in everything she does, and her effortless embrace of the Barbie trend is no exception. It's no wonder she's adored in the entertainment world! And her fans? Oh, they can't get enough! With her active presence on social media, she's created a tribe of devoted followers who hang on to her every word.
In the ever-changing world of fashion, Ashnoor Kaur's Barbie-inspired look is pure perfection – a classic, timeless choice that cements her spot as a trendsetter in the industry.
So, all hail Ashnoor Kaur, the real-life Barbie who's stealing hearts and setting trends like a boss! We're loving every bit of this magical pink journey she's taken us on. Keep slaying, girl! 🌟