Bollywood News
Alia Bhatt's Interest in the Korean Language Shines as She Flaunts an 'Electrifying' Hotel Room View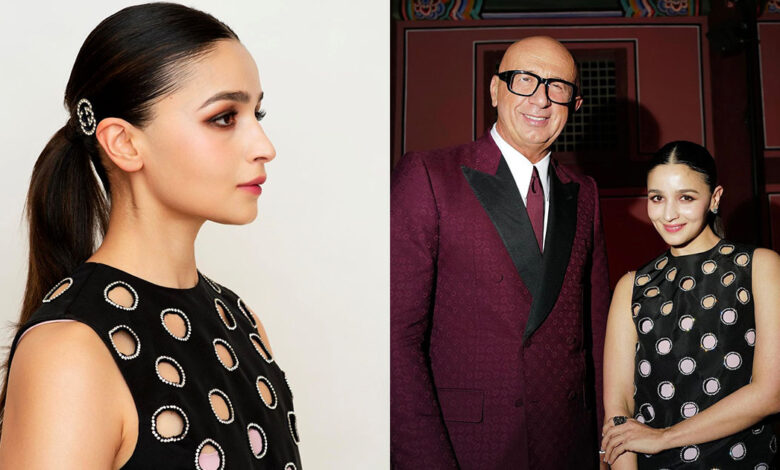 Alia Bhatt's Korean Adventure: From Gucci Runway to 'Electrifying' Seoul
Alia Bhatt recently made her presence felt in Seoul as she attended Gucci's Resort 2024 runway presentation, marking her debut as the brand's ambassador. The talented actress donned a stylish black dress inspired by the 1960s and complemented it with a trendy makeup look. In a captivating 'get ready with me' video, Alia shared her excitement about sitting in the front row at a Gucci show for the first time and gave a glimpse of her thrilling experience in the vibrant city of Seoul.
The behind-the-scenes video commenced with Alia elegantly dressed in a white robe inside her hotel room, engaging in conversation with someone. Curious to learn a Korean greeting, she inquired, "How do you say hello in Korean?" She then folded her hands and confidently said, "Annyeonghaseyo" (hello). Alia also practiced saying "annyeong" (bye) as she familiarized herself with the Korean language.
In the video shared by Vogue magazine on Instagram, Alia warmly welcomed fans, saying, "Annyeonghaseyo Vogue, please come in." As she prepared for the Gucci show, she marveled at the stunning view from her hotel room and expressed her fascination with the city's electrifying energy. Alia described the experience as adventurous and eagerly exclaimed, "Let's go get ready!"
Discussing her look for the fashion show, Alia shared, "Today's dress is very fun yet classic, exuding a '60s shift feel. We want to have some fun with hair and makeup too. I want to try something new for the first time – strong eyes. I don't usually wear liner, but my Korean makeup artist assured me that my eyes will look striking. This is my first time representing Gucci, attending a fashion show, and I can already sense the spectacular atmosphere. With my hair at its longest, I have always wanted to try a long ponytail, and it complements the dress and its structure perfectly."
As Alia made her way to the fashion show venue, the historic Gyeongbokgung Palace, she expressed her growing anxiety due to the traffic. At the event, she greeted several individuals, including Hollywood actor Dakota Johnson, who extended a warm welcome, saying, "Pleased to meet you." Alia was later seen posing for photographers, capturing the glamorous moments of the occasion.
Alia shared a series of photos from the Gucci show in Seoul on her Instagram account on May 17. After the event, she also delighted in indulging in a pizza, as seen in one of her posts.
Alia Bhatt's journey to Seoul showcased her enthusiasm for exploring new cultures, embracing fashion, and enjoying the vibrant energy of the city. Her presence at the Gucci presentation added a touch of glamour and excitement to the event, leaving fans eagerly anticipating her future endeavors.